What Makes a Good Pickleball Shoe?
Your lower body has literally hundreds of bones, joints, and ligaments that can twist, bend, sprain, and, unfortunately, snap! The right shoes can help your stability and protect you from many common injuries. And while safety must come first, we know that you also want to look your best when you're on the court with your friends! Here are the most critical considerations when shopping for the right pickleball shoes.
Comfort
Comfort matters - not only to prevent injury but also for your confidence. The right shoes will help improve your posture and prevent long-term injuries to the back and spine. With your new shoes, you will be able to focus on winning the game and not on the pain in your arch or big toe. Remember that if you use orthotics or other supports in your day-to-day shoes, you will want to make sure to choose a pair of pickleball shoes with a removable insert.
Weight
To excel at pickleball, you will need to stay light and agile on your feet. Wearing a clunky pair of shoes can kill your reaction time and slow down your mid-game. Manufacturers today design athletic sneakers with weight in mind to help with your endurance during sports. Always take note of the materials used when you try on a new pair of sneakers. A foam or light rubber sole is perfect for amateur pickleball players.
Structural Integrity
The structural integrity of your sneakers speaks to the quality of their construction. You want a pair that will hold up, even if you play several times per week. Purchasing a high-quality pickleball shoe is an investment in your health and safety. Spending a little more can ensure that you get through the season without needing to find a replacement pair.
Ergonomics
An ergonomic shoe will keep your foot in the optimal position at all times. This means you will have great support for your arches, whether mid-game or relaxing on the bench. Shoes without arch support can encourage pronation. When your foot rolls inward, often happening without you realizing it, it can be the precursor to a game-ending injury.
The Best Pickleball Shoes for Men
The best way to support a fantastic new hobby is with a perfect pair of safe and appropriate sneakers. Here are our top picks for the best pickleball shoes for men. Not only will they improve your game, but you will look great doing it!
FitVille Wide Pickleball Shoes for Men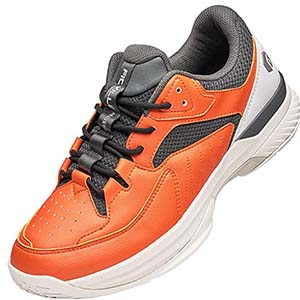 The FitVille Wide Pickleball Shoes for Men have the arch support you need to take to the court and dominate! They are perfect if you suffer from plantar fasciitis - inflamed tissue running across the bottom of the foot. The wide width offers extra room for your toes, allowing for better freedom of movement as you play. You will love the built-in honeycomb insoles, which add additional support. The nonslip design means you can play indoors or outdoors without any fuss.
Python Deluxe Indoor Court Shoes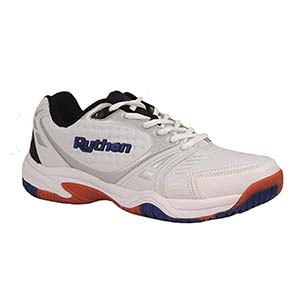 If you are an indoor player, you need a pair of pickleball shoes to help you tackle your terrain. The Python Deluxe Indoor Court Shoes are non-slip, non-marking shoes ideal for any indoor match. Although they are light, they are surprisingly durable. This is the perfect shoe for anyone with the tendency to work up a sweat! They have excellent absorbent properties to keep your feet dry throughout the game. Remember to size up for the best fit because they run about a 1/2 size small.
Diadora Trofeo Men's Pickleball Shoe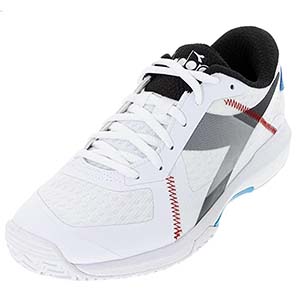 The Diadora Trofeo Men's Pickleball Shoe is the pair you want if you are equally interested in style and comfort! The super trendy Diadora Trofeo Pickleball Shoe is great for supporting lateral movement but also up your fashion game!
Fila Volley Zone Men's Pickleball Shoe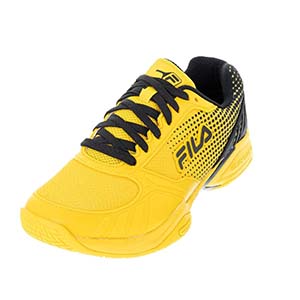 The Fila Volley Zone Men's Pickleball Shoe has a classic, vintage look that will also get the job done. This shoe balances style and performance, so you'll play like a pro - and look like one, too! While the vintage aesthetic is just for show, these shoes have the modern trappings of a high-quality, contemporary tennis sneaker. They are perfect for both indoor and outdoor play.
The Best Pickleball Shoes for Women
In a perfect world, every woman would find a pair of shoes that keeps her both safe and stylish! Here are our top picks for the best pickleball shoes for women. These colorful kicks will protect your ankles and your reputation as a fashionista.
K-Swiss Women's Tennis Pickleball Shoe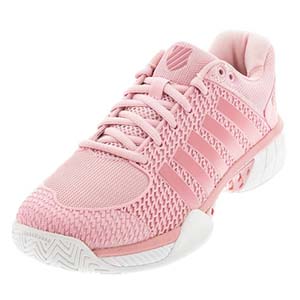 The trendy K-Swiss Women's Tennis Pickleball Shoes are both high fashion and highly functional sneakers that will last whether you play indoors or out. They provide excellent support if you suffer from plantar fasciitis and contain a superior moisture management system to keep your feet dry and comfortable. The K-Swiss Women's Tennis Pickleball Shoe is perfect if you plan to hit the outdoor court in the summertime!
ASICS Women's Gel-RENMA Pickleball Shoes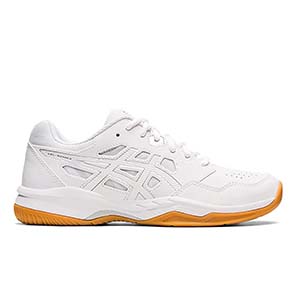 The ASICS Women's Gel-RENMA Pickleball Shoes allow you the freedom to move! They are among the most supportive pairs on the market, with gel technology for extra impact absorption. You will look great and keep your ankles intact, even if you play hard!
Are Pickleball Shoes and Tennis Shoes The Same?
Until there is a designated "pickleball" shelf at the shoe store, sticking to the tennis shoe area is your best bet! As a sport, tennis has the same physical requirements as pickleball. Designated tennis shoes will support those specific skills and tactics similar to pickleball. A well-constructed pair of tennis shoes will get the job done if you play pickleball outdoors. You will want to choose a pair that has a non-marking sole and provides strong ankle support.
If you plan on playing pickleball indoors, consider looking at court shoes. These are similar to racquetball and handball players' shoes on indoor courts. They provide extra support in the ankle area, have solid rubber soles to help with impact absorption, and tend to be lighter in weight than their outdoor counterparts.
Which Shoes Not to Use
If at all possible, avoid playing pickleball in running shoes. Running shoes are great for efficient forward movement but have less support for pivoting, changing directions, and jumping. In other words, they offer the exact opposite type of support you need to stay safe on the court! Because pickleball is all about lateral movement, or movement from side to side, you need shoes that specifically support the frantic shuffling and turning involved in a good, high-energy game.
Tennis and court shoes have the weight near the center, which will help keep your ankles safe during these movements. As a general rule, you should also avoid any shoes that aren't designated as athletic sneakers. So leave the hiking boots, open-toe shoes, sandals, trail running shoes, and lounge shoes at home!
Conclusion
Folks across the country have told us that once they've started playing pickleball, they just can't stop! It is wise to support your new, active passion by buying a pair of perfect pickleball shoes that will last. The right pair of shoes will keep you safe and comfortable as you get more active on the court!
Ready for more great tips about staying in shape as you age? The Active Aging blog is full of posts that can help you stay fit and engaged for years to come! Subscribe to our newsletter and get free weekly tips sent directly to your inbox!