5 Signs You Are Still in Love in Your Golden Years?
Written by Aaron Ainbinder. Bio on Editorial Team.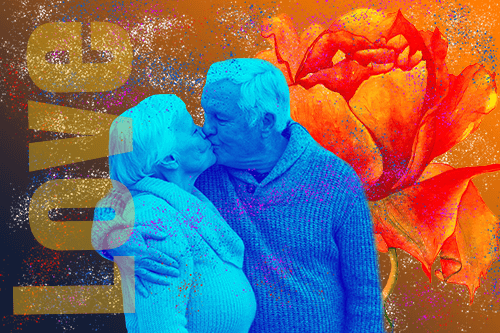 Our golden years are meant to be filled with adventure and passion. As a senior, love can be a tricky thing to put your finger on. After all, we've spent nearly a life time of trying find love and develop it.
Love is the active concern for another's well-being. Love is a verb. It requires action. Love, the noun, is a byproduct of Love, the verb. Below are five signs that may show that you are still in love in your golden years. Or maybe they will strike a chord in your heart and inspire you to action.
Do You Still Surrender to the Desires of Your Loved One?
Yielding to the desires of the one we love comes easy when the love is mutual. Surrendering to the wishes of the one we love is easy when the love runs freely on the two-way street of active concern for the other's well-being. That the well-being and happiness of the one we love remains high on our list of personal values is a sure sign of still being in love in our golden years. It is a sign that you have not allowed love to grow stale, perfunctory, and predictably missing.
Perhaps the Lady of the House wants to watch the International Rose-Growing Competition on television. But that broadcast coincides with a college basketball game which her sweetheart has been looking forward to watching. I will not offer my opinion as to which partner might subjugate their desires for the other's pleasure. Perhaps both will yield to the other, and they wind up watching reruns of Lassie Come Home! Such love… such love… such sweetening of the pot of peace and love in the home. Neither cares what is on the boob-tube, as long as they are sitting together holding hands while Lassie once again rescues Timmy from some dangerous situation.
Do You Still Do The Little Things?
Still in love in your Golden Years? A sure sign that you are still in love with your beloved is when you choose to slow down in meaningful ways and at significant times. If any of the below rings true for you, the odds are in your favor that love, the noun, is plentiful in your life.
If you stop at a local flower store to buy your love flowers just because that special person makes your palms sweat when your mind drifts to thoughts of their touch, their smile, their eyes, and their reciprocated affection.
If you skip a round of

golf or yoga class

when your loved one asks for a little time together.
If you stop replying to text messages, phone calls, and other distractions when in the company of your beloved.
If you cannot stop affectionately patting their behind when they pass by you in your home.
If you cannot stop smiling broadly when some hopelessly idealistic romantic (like your humble author here) asks you if you still love your wife or husband or partner.
When you and your heart-throb are at a quiet cocktail lounge, you slip the band $20 to play a few slow songs so that you can dance together to romantic music.
When together at home in the evening – or even at lunchtime – you put some romantic music on the stereo system and ask your love if you may please have the next dance.
When you find yourself caught up in our fast-paced world, you choose to slow down and enjoy a period of quiet time with your gal or guy. Our go, go, go world will get by just fine without your active participation during those times which value, alone with your love.
If you slow down, come into the moment, and let your love know that she or he is of the very highest importance to you.
When you truly enjoy a stroll in the park, holding hands with the one who makes your heart glow.
Are You Still Soft and Compassionate with Your Partner?
Soft Shoulder road signs let us know that drifting off the highway will likely cause us harm. Being gentle and compassionate with your loved one will likely bring great pleasure to both partners.
Do you still listen to your partner when they need to be heard?
Do you have a soft shoulder when your love needs to cry?
Do you still hold your partner with the same love and care?
Do you have a soft shoulder when your love needs support but does not need "fixing?"
Do you have a soft shoulder when your love requires a safe place to lean upon for a spell?
Do you recognize that you have let go of the need to be right and drop your ego?
Do You Still Honor the Peace and Sacredness of Your Relationship?
During moments when you are most tired and prone to be irritated, do you still honor your relationship's peace and sacredness? DO NOT DISTURB the peace and love of your home. If you have to fight, fight naked. As soon as you and your partner begin to squabble about some issue or another, stop, and both of you take off your clothes right then and there. No touching allowed. When you are both standing naked as the day you were born, your dispute may continue. The upset will turn into chuckling, giggling, and laughter at how silly it was that you were arguing about whatever matter was of so much importance a scant few minutes ago.
Let us take nothing for granted, fellow seniors, least of all love. Better still, let us not take being in love for granted. Let nothing disturb the peace of your home and the peace of your love's life. Remember that Love is a verb. It requires action. Do not ever take it for granted.
For more on love, travel, and other tips to living a full life in retirement, visit our Lifestyle Section.