Liforme Original Yoga Mat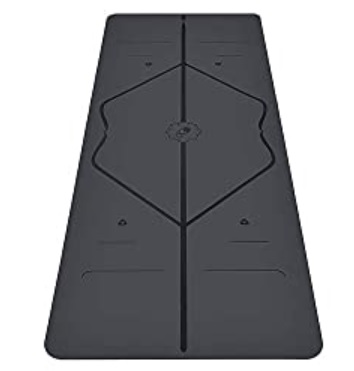 A premium yoga mat this one is, available for about $150. It comes with alignment markings on the mat. This feature benefits experienced yogis and beginners alike, helping all to keep proper body position in mind. It is designed to be non-slip, eco-friendly, sweat-resistant, and biodegradable. Though it is less than ¼" thick, this mat provides superior support for the user's body. It is 72" long, just under 27" wide, and weighs about 5 pounds. The "GripForMe" material supplies a warrior-like grip to the user.
Jade Harmony Professional Natural Rubber Yoga Mat - Long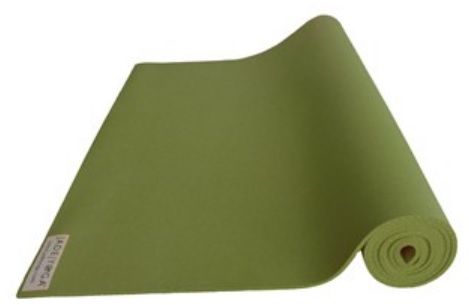 This mat comes in both extra-long (74") and standard size lengths and is manufactured with 99% natural tree rubber. It contains no latex, plastics, PVC, synthetic rubber, or harmful chemicals. The surface has an excellent grip to it so that your feet and hands stay where you place them. This mat is 3/16" thick and comes in 9 different colors, so matching a mat to your yoga attire is easy.
AG ACTIVEGEAR Large Yoga Mat – Non-Slip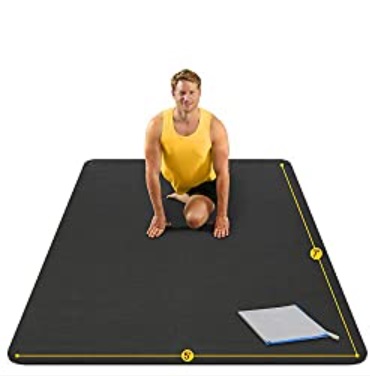 This is a very large, unique, and durable premium yoga mat, measuring 7'x5'x.31" for about $120. Some of us like to have extra room for poses without going off the width of a standard yoga mat. They are designed for yoga, Pilates, stretching, or any exercise done barefoot. It has a non-slip grip on both sides of the mat and comes with storage straps and a travel bag. This mat may be too large for use in a regular yoga class, where a standard size mat is more appropriate.
Manduka PROlite Yoga Mat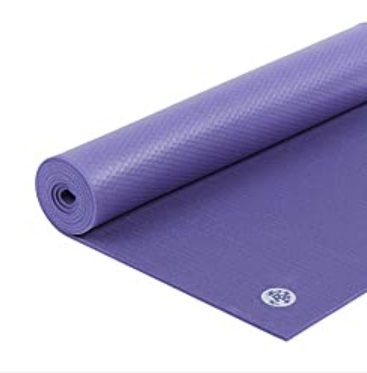 Sticky on both sides, this mat provides stability for the user, and the mat will not slip on the floor while in use. Weighing only 4 pounds, it is the right choice for those of us who do yoga other than in our homes. There is a lifetime guarantee on the mat, and it is 100% latex-free. Though non-sticky, it is slip-resistant even when wet from sweat. Comes in four colors – Cherry Lite, Purple, Olive, and Midnight.
YOGA Accessories 1/4'' Extra Thick Deluxe Yoga Mat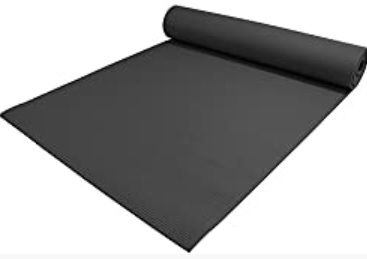 An excellent value for about $20. Other high-end mats can run upwards of $100 or more and, while indeed of very high quality and durability, that price point may be out of the budget many of us have. With ¼" thickness, this mat provides excellent support for older knees, hips, and backs. It is a very sticky heavy-duty mat, 72 inches long, weighing in at 3.6 pounds. This makes it easy to travel with. Available in 25 colors and free from latex and heavy metals.
Yoga Mat Materials
Pay attention to the material which is used in constructing your mat. Eco-friendly mats are available, made from non-toxic and biodegradable plastic, plant fiber, or natural rubber latex. We sweat (or glisten, if we are ladies) while doing yoga, and the materials in our mats have a good chance of being absorbed into our bodies.
In a nutshell, open-cell yoga mats are absorbent. Closed-cell yoga mats have just the opposite composition and function. Open-cell mats work well for the humidity in heated yoga and people who sweat a lot. A downside of this is that the mats absorb bacteria and can be challenging to clean. Acidic or vinegar-based cleaners are generally recommended. Make sure to wipe off the cleaner thoroughly, or the textured surface and durability of the mats can be damaged. Mats made from natural tree rubber also can have an odd smell to them.
Size and Thickness
Standard yoga mats are 5'8" to 6' (68" to 72") long. Longer and shorter mats are also available. It is wise to buy a mat that suits our height, allowing a few inches above our head and below our feet when lying on the mat. As to thickness, the standards are 1/4 inch and 1/16 inch. Thicker mats provide more cushion, of course, but they are heavier and bulkier to roll up and travel with. Consider having a thicker one for home use and a thinner one for when you travel. Keep in mind that thicker mats are a bit harder to keep one's balance on during specific asanas (poses) though they cushion older knees and hips.
Keep Your Mat Clean
Even Yogi Bear no doubt cleaned up in the river regularly. Our yoga mats last longer and are more pleasant to use when they are kept clean. Use a few drops of dishwashing soap in a couple of cups of water, and clean your mat periodically. Dry it with a clean towel and then hang it up and let it finish drying in the air. If the mat's floor side needs a good cleaning, dunk the whole mat in warm water, again with a bit of dish soap, and clean off the shmutz. Wring out the excess water and hang it up to dry. A clean mat is a happy mat!
Texture and Slipperiness
Be conscious of the smoothness and slipperiness of the mat. Some mats have one side with small dimples or texture markings of some sort. This helps keep our feet from slipping while engaged in a variety of yoga poses. A smoother surface allows our feet to move more naturally on the mat. Too much of a slippery surface might cause our feet to slip out from the position we desire. Yoga studios usually have mats for participants to use. Try different ones out so that you can find the style which suits your needs and comfort. Listen to your body while you try out different mats. Breathe and listen.
Conclusion
Yoga is an excellent discipline of exercise, meditation, and relaxation of mind, body, and spirit. If you are new to yoga, you are likely to be pleased with the benefits of this ancient practice. Look forward to the increased flexibility and strength, which regular yoga participation brings to us all. A comfortable yoga mat is a must for yogis of all levels. Our feet, knees, hips, and backs must be provided with a surface to work on that allows maximum comfort and ease of movement. The right mat – and there are many suitable mats – is worth the investment. Whatever your budget allows, you can find what suits your inner Yogi best.
Lastly, in these unusual times, finding an open yoga class might be challenging. If you are unable to find an available class, and if you still want to pursue the practice of yoga, I recommend getting your hands on a book by the title "Anatomy of Yoga" by Dr. Abigail Ellsworth. Now go buy a new yoga mat and embrace the Yogi Bear within you. But please refrain from stealing pic-i-nic baskets. To do otherwise would be to set a poor example for the others.
Namaste!