Callaway Mavrik Max
Pricing for Callaway Mavrik Max
Callaway has three drivers in the Mavrik line – the Mavrik, Mavrik Sub Zero and the Mavrik Max. The Mavrik Max is the one I suggest. It has an incredibly large sweet-spot, which is as forgiving of off-center shots. This club is an easy-to-hit driver which provides excellent launch height. It also has what Callaway calls "draw bias design" which helps to corrects the flight of the ball for those of us who slice a shot on, (ahem, ahem) occasionally. The club face has a spring-like feel to it. Balls launch like a bazooka shot, and the sound of ball/club contact is a treat to the ears.
Callaway Rogue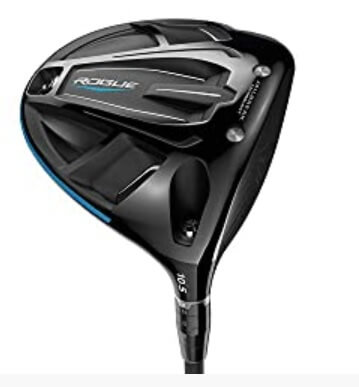 This unique driver from Callaway has been on the market for a couple of years. It is proven, affordable to most budgets for high-end clubs, and a great addition to the golf bag. The Rogue club has some interesting technology in the club head. Two metal bars connect the club face to the sole. This gives tremendous force and stability when the ball is hit. At the same time, the club face still compresses as it should when it hits the ball. Force and compression equal power, which results in great distance on balls well-hit.
Big Bertha B21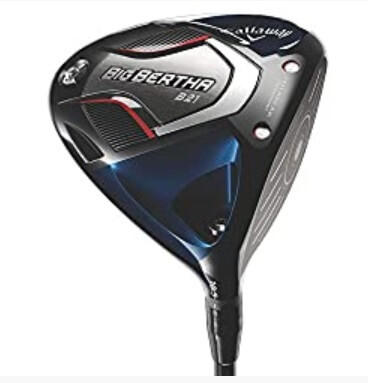 A Big Bertha driver has been my personal favorite for many years. The club head is huge, so when I remember to keep my own head down, I hit the ball well. The new Big Bertha B21 has some current technological advancements which are outstanding. Like the Callaway Rogue, this club uses "Jailbreak" bars in the club head. These bars connect the face of the club to the sole, which transmits more power to the ball on impact. The B21 is designed for forgiveness when we do not hit the sweet spot of the face with 100% accuracy. Such a design straightens out slices and other annoyingly errant trajectories. The titanium materials are strong, powerful and light-weight. With our slower swing speeds as we get older, such a club benefits us in many ways by using sturdy materials in construction, and exceptional technical design.
Wilson Staff Launch Pad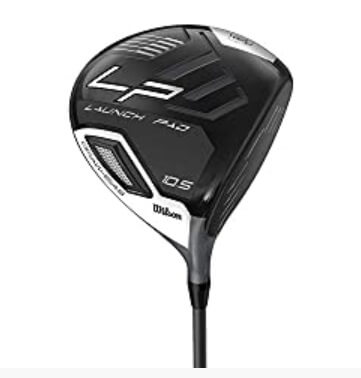 Pricing for Wilson Staff Launch Pad
If you are prone to slicing your drive shots, this club is definitely worth your consideration. Heal-side weighting in the head counteracts those wayward swings, minimizing the slice. The angle of the head is also 2 degrees upright, adding another helpful bit of technological design to combat slicing the ball. The Launch Pad driver weighs in at just under 10 ounces, making it among the lightest weight drivers available. The benefit of this, aside from gratitude from your caddy, is that with swing speeds not as fast as in days of yore, we can still get excellent distance and accuracy. Slow down, hit the sweet spot, and keep the ball on the fairway at a respectable distance from the tee.
PING G400 Driver
A really large club head measuring 460cc enables distance and forgiveness when the sweet spot on the face is periodically missed by (cough, cough) some of us. The club is designed to reduce drag by 15%, increasing speed and distance. With a low and deep center of gravity (CG) and more flex at time of impact with the ball, distance and accuracy of the shot is enhanced. PING uses a Golf Pride Tour Velvet 360 Grip on this club, which gives the user a good feel and no slippage when swung. With the big head, light weight, powerful and forgiving design, this club is an excellent value. And you get the distinct PING sound and feel when the ball is hit.
Losing Distance as We Age
Behind us are the days when, in our 20's and 30's, we might have been able to hit a drive 300 yards or more. It is said that we lose about 10 yards in distance every 10 years or so, and that by the time we are in our 60's our average drives are under 200 yards. A lot of our drop in distance is correlated to our average swing speed. We can also improe distance by playing a senior friendly golf ball. With holes that are, say 350 to 450 yards, we can still reach the green in two or three shots. We can also improve swing speed with driving range flexibility stretches. A word I have used in a previous article once again is apropos – Relaxify! Let the young studs and studettes (female studs) crush their balls. With the right clubs, and our slower swings, we can do quite well with accuracy. And that is what wins the game.
Tight Budget, But Want a New Driver?
If your budget is tight, as it is for many of us, I share this bit of knowledge and experience with you: Goodwill, ARC and other thrift stores generally have a large selection of golf clubs which people have donated. You may be surprised at what you might find at a local thrift store. With the money you saved, you can buy grandson Leo, or his older brother Alex, an extra gift for the next holiday that comes around
Those are my top suggestions, Dear Reader, when considering golf club drivers. Some are a bit pricey, depending on our personal budgets, and yet they are all a great value for the quality received. We are all worthy of having golf clubs which help us to enjoy the game. Treat yourself to a driver which suits your game and your needs.