XXIO Women Eleven Bordeaux Iron Set RH 7-PW, SW Graph Lady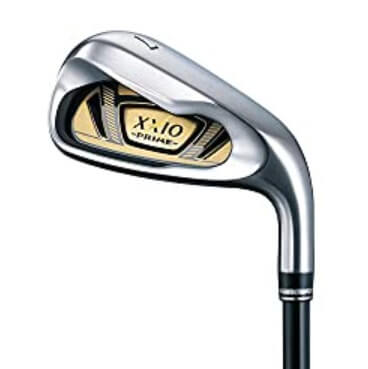 View Pricing on Amazon
In the butt end of these clubs are rubber and brass weights, helping to give a great feel and a reliable swing tempo. The face of the irons has some flexibility to them. The benefits of this are tremendous ball speed, resulting in greater distance. The graphite shafts on these irons are lightweight and durable. The Eleven Bordeaux Iron set comes with a pitching wedge and a sand wedge. Ball control and distance are the prime areas of focus for which these clubs are manufactured.
Callaway Big Bertha REVA Women's Iron Set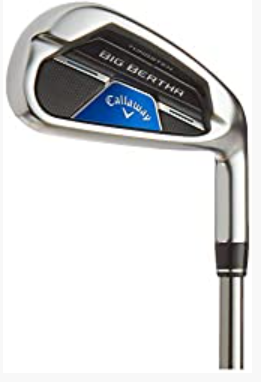 View Pricing on Amazon
Another fabulous set of golf irons from Callaway. For women in their silver years who have lost some confidence in their golf game, these clubs may be just what they need to gain distance to their game. The CG (center of gravity) of the club, being placed lower in the shaft and in the heel of the head, helps with distance and accuracy. As we lose some physical strength, we tend not to hit shots as high as we used to. This costs us distance! In trying to compensate for the lost distance, we often lose accuracy by not letting the club do the work it was designed to do. With a smaller clubhead and lighter weight all around, distance and accuracy can be significantly restored. The Callaway women's XR 0S is an excellent choice for women golfers of all skill levels.
Senior Ladies iDrive Pink Golf Clubs All Hybrid Set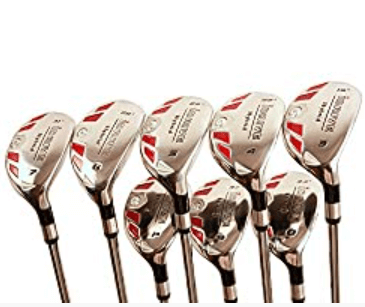 View Pricing on Amazon
Pink? You bet, ladies, you bet! Stylin' and smilin' while you chase that little ball around the old golf course. This set comes with irons from 3 to 9 and a pitching wedge. Driver, putter, and bag are sold separately, and all clubs are made for right-handed golfers. Graphite shafts and oversized heads help make swinging the club more effortless and more accurate than heavier traditional irons. Larger club heads and lighter shafts increase distance and accuracy.
Wilson Staff D-100 Women's Irons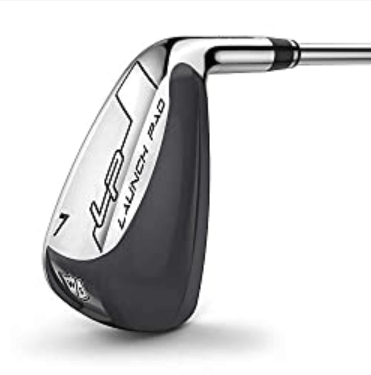 Not available on Amazon
Wilson has long been making some of the best golf gear available. These irons are super lightweight, allowing senior ladies to really whack that little white ball. The faces of the clubs are 7% thinner than usual, delivering great distance through faster BSPW (ball speed, post-whacking.) The club head's sole, heel and toe have 35% more mass due to the cavity of the club head being undercut. This results in a great deal of forgiveness, accuracy, and high MOI (moment of inertia), which is the rating of how much twisting the clubhead has when it hits the ball. A high MOI is more forgiving of slightly errant hits. Each of the Wilson D-100 irons provides an ideal launch angle, spin rates, and ball speeds. Great clubs to have in your bag, Ladies. You will whack it well with Wilson.
PING G Le2 Women's Irons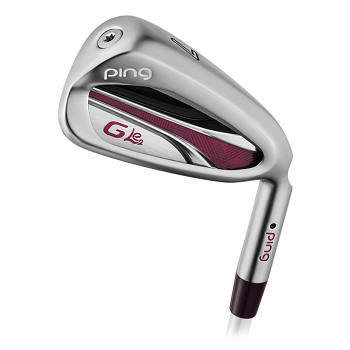 Not Available on Amazon
There is nothing quite like the pleasant sound of a PING iron when you hit a golf ball well. The G Le2 irons are light and have a 10% higher MOI, which delivers greater ball height and distance. The thin club faces lighten the weight of each iron, generating more club speed, resulting in faster ball speeds and distance in each shot. These are lovely clubs for golfers of all skill levels. The grips and shafts on the PING G le2 come in beautiful colors, with Lite and Ultra Lite graphite shafts, further reducing the weight of each club.