Titleist Tour Soft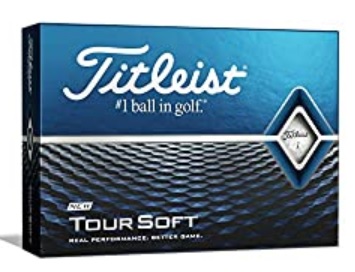 Titleist Tour Soft Pricing on Amazon
Pros: With a bright outer coating, this ball is easy for older eyes to track in flight. A 342 dimpled ball adds stability in the wind and added distance to well-hit shots. This ball has the largest core of any Titleist golf ball, which provides the additional distance and smooth spin. This ball has a compression of 65, which is great for seniors! The Titleist Tour Soft also has a T-shape side stamp which helps with alignment and increased accuracy. For older adults who lack the distance they once had, improving accuracy is a must!
Cons: The Titleist Tour Soft does not have a urethane cover, which traditionally helps with spin around the green. This is something senior golfers need to keep that in mind when working on their short game. The lonomer cover on the Titleist Tour Soft will also spin less off the tee, meaning more control and hook/slice management. So it's a tradeoff.
Callaway Supersoft Magna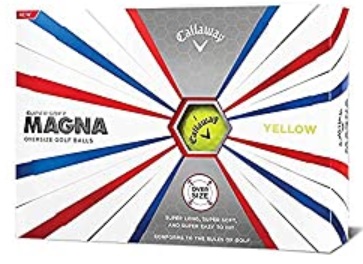 Callaway Supersoft Magna Pricing on Amazon
Pros: This ball is 3% larger than the traditional golf ball, which is great for seniors with reduced vision. It has great stability in flight and with its softer low compression design (38), the ball allows great height off both tee, fairway and rough. When hit errantly, the ball will not slice or hook nearly as much as a high compression ball. That is always nice for those of us who (ahem…) struggle on occasion with hitting a ball straight. This is a great choice for anyone with a slower swing speed. People with faster swing speeds will see a drop in distance due to the low compression design. Those of us with moderate swing speeds will most likely not see any drop-off in distance on our shots.
Cons: If you are a senior who still hits with a higher swing speed then hitting the Callaway Supersoft feels perhaps too soft. Overall, it's a fantastic golf ball for seniors!
Srixon Soft Feel
Srixon Soft Feel Pricing on Amazon
Pros: Srixon brought out their 12th generation of soft-feel golf balls in October of 2020. The compression on the Srixon Soft Feel is 71. Their softer core is quicker to snap back quickly after the club hits it. This adds ball speed and increases accuracy. With 338 dimples, this ball cuts through the air and any wind that might be present, by reducing drag as well as increasing lift and height of the shot. With a slower swing, it is easier to maintain accuracy without sacrificing distance. The Srixon Soft Feel comes in various colors, making it easier to see in flight for seniors with decreased vision. From the fairway and rough, specifically with mid irons and hybrids, this ball gets great loft and a high trajectory.
Cons: Like all lonomer cover golf balls, the Srixon Soft Feel lacks great spin. That seems to be ok for most senior golfers, as the higher trajectory makes up for high quality spin around the greens. The lack of spin also helps reduce spin on hook and slices, thereby helping you stay inbounds.
Wilson Duo Soft+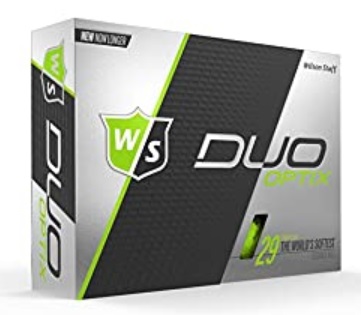 Wilson Duo Soft+ Pricing on Amazon
Pros: A compression rating of 80 or less designates a low compression golf ball. The Wilson Duo Soft+ has a compression rating of 36, making it perhaps the softest low compression golf ball around. This does not mean that it can also be used as a ping-pong ball, and it will still cause pain if it hits someone lol. For the golfer with a modest or slower swing, however, this ball allows for great confidence in accuracy and distance. It is designed to launch higher off iron shots, resulting in steeper descents and wonderful stopping power when the ball hits the green. This ball is designed for a slow spin, which helps to reduce hooks and slices.
Cons: One of the lowest compression balls on the market, some golfers might find the squishy feel of the ball to be too soft. If this isn't a problem for you, then this might be the perfect golf ball for low swing speeds!
Bridgestone TOUR B RX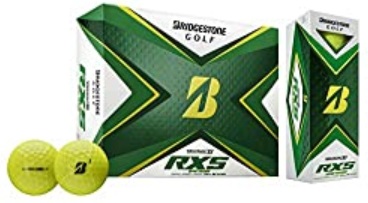 Bridgestone TOUR B RX Pricing on Amazon
Pros: Great ball for distance and spin, with long flight off the tee or fairway or rough, and the ability to stop a shot on the green. The Tour B RX comes in an easy-to-see yellow outer cover. This sure makes it easier to follow the ball, particularly on bright sunny days. Yellow also has much less glare when the ball is on the tee. With a compression rating of 66, all of us who use a slower swing speed will appreciate Bridgestone's technology with this one. No need to sacrifice distance, and we get plenty of spin for accuracy and grip on the green when it lands there.
Cons: Like the balls above, low compression balls tend to lack spin. The Bridgestone Tour B RX might have the best spin out of the above on the list though.
Low Compression Golf Balls
Golf balls are made with a hard rubber core, which is then wound with threads before the outside covering is put in place. The notation of a ball being high or low compression is based upon how tightly the threads are wound around the core. Low compression balls have looser windings of the thread. Looser windings make the ball softer and easier to get distance, particularly by non-professional or non-expert golfers. Picture the difference between bouncing on a small trampoline and bouncing on a sidewalk. That is how compression ratings differ. On the package which golf balls come in, a rating of 80 or lower is considered a low compression ball.
There is some tradeoff, though, as control of the ball is compromised a bit by the increased rebound off the club head. High compression balls have very tight inner core thread windings and are considered better for this professional or more highly-skilled golfer.
Just as any other ball struck by an object which propels it, a golf ball compresses when struck by a club. And a low-compression ball will follow the direction of the club head better when hit at a slower speed. As we get older, we tend to have a slower club speed. I like to think that this is because we are more wise, more contemplative and less in need of Herculean swings. I'll float that line past my aging golf-partner therapist!
In cold weather, a low compression ball is also more comfortable for us older folks to hit. Balls get hard when they are cold (what would Johnny Carson say to that?) and hitting a ball with a higher compression rating in cold weather can be like hitting a nicely rounded dimpled rock. That can send a jolt through older bones which is not comfortable.
Slower Swing Speeds
To have a slower golf club swing is natural as we get older. And in some ways it is wiser, not only for our safety and balance, but for control of where our shots go. A slower swing allows us to have a better chance to avoid lifting our head, topping the ball and missing the fairway or the green. Here is a chart of the average swing speeds by age and gender. Low compression golf balls respond better to a slower swing speed. When the club head hits the ball at a slower speed, the ball has time to compress and then explode off the club head. This gives us longer distance in our shots and, with practice, better accuracy. The softer ball also allows for more touch and positive outcomes on and around the greens.
You can also carry specific drivers in your bag to help with your swing speed. Here is a list of our top drivers for senior golfers.
Golf Ball Suggestion for Long Distance Hitters
MG Senior is a great ball for anyone, at any age, who wants to knock the snot out of their drives. This one will impress your husband, wife, partner or caddy. It is, however, not legal for most tournament play. You will get incredibly more distance, with a ball that goes higher than most. Nothing wrong with boosting one's ego a bit with getting the distance we might have been able to attain in years gone by.
Golf Ball Suggestion for the Grandchildren
Callaway Supersoft is the softest low compression ball that Callaway makes. Its ultra-low compression core gives kids a better chance at distance as well as a straighter trajectory on all shots. The design enhances lift for a nice high flight, which kids love to see. Helping children to experience successful golf shots is absolutely the best way to guide them into the love of the game. Even if many of their shots are errant or worm-burners, when they slow down and control their swing, this ball will allow them a better opportunity to have a successful shot. Consider drawing a cartoon face on the balls that the children use. Leo the Lion is always a favorite. Come to think of it, I may just do that for myself, big kid (with gray hair) that I am!
Conclusion
In conclusion, Dear Reader, let your putter be your rudder through the rough seas of life. A golfer who grips her or his putter with a death grip is likely to miss the hole more often. A golfer who has too loose a grip on the putter might send the ball everywhere but towards the hole. A golfer who has a relaxed, but firm, wise-with-age grip on the putter (on life) is more likely to make it to the 19th hole with stories of glory with which to regale his or her friends.