Best Gardening Tools for Aging Adults
Article written by Rhianna DeVries - bio on our Editorial Team.
Gardening has become increasingly popular over recent years, and for good reason: not only has gardening been proven to be a therapeutic and relaxing way to pass the time, but it's also a great way to get some fresh air, get the blood pumping, and maybe even grow some plants in the process. However, gardening comes with some pretty heavy-duty tasks. Thus, gardening can be uncomfortable or even painful for those suffering from chronic pain or mobility impairments. But no need to worry: if you experience discomfort or pain from stooping, kneeling, bending, or standing for long periods, there are plenty of alternative gardening tools suited to your needs. With the right tools, gardening can be made much more accessible, leaving you to continue to enjoy this lovely pastime. Here are the best gardening tools specifically designed with seniors in mind.
Raised Garden Beds
CLICK FOR AMAZON PRICING ON RAISED GARDEN BED ABOVE
Do you have trouble stooping and bending to tend to your garden beds? Then consider bringing them up to your level. Raised garden beds make gardening more accessible by allowing gardeners to choose the bed's level based on their ability to reach it. And these beds are incredibly versatile, too, meaning that you don't have to sacrifice your choice of plant to benefit from the comfort that raised garden beds provide. From flowers to fruits, veggies to perennials, you'll still be able to garden everything you love.
Raised garden beds are beneficial for wheelchair users or those with arthritic joints who find bending and kneeling to be painful. If you're in a wheelchair and considering a raised garden bed, be sure to choose a bed at a height that allows room for the wheelchair to slide underneath it so that you can have full access to your plants. Or, if you can stand independently, consider opting instead for a bed at about waist-height to maximize comfort and reach.
Rolling Garden Seat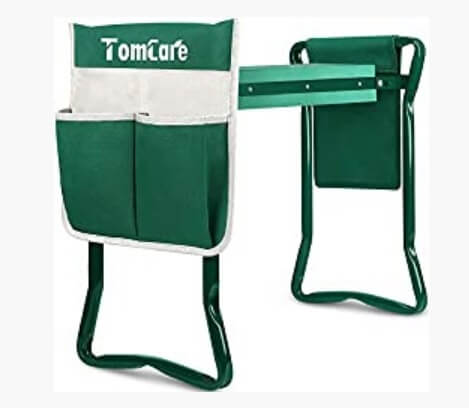 CLICK FOR AMAZON PRICING ON GARDEN SEAT
Countless inventions make navigating upkeep in the home more accessible. From fold-out stools that can be used to minimize the need to crouch or kneel for long periods of time to kneeling pads that can decrease the impact that a hard floor can have on one's knees, there are all sorts of gadgets to choose from that can make your life a little easier. The rolling garden seat is no exception. Like the raised garden bed, the rolling garden seat can mitigate the necessity of kneeling and bending when tending to your plants.
Rolling garden seats assist in the completion of gardening tasks that are lower to the ground. You can feel at ease weeding, pruning, and planting since the rolling garden seat allows you to sit instead of placing unnecessary strain on your back and knees. This seat also makes sure you can take regular breaks: instead of having to stand and move to a more comfortable sitting area, you can sit back and resume your tasks when you're ready. Rolling garden seats are also specifically designed for all-terrain environments, which means that most of them can stand the test of time and grime. In all, a rolling garden seat can prove to mitigate back and joint pain, all while providing a comfortable way to enjoy your garden.
Ergonomic Hand Tools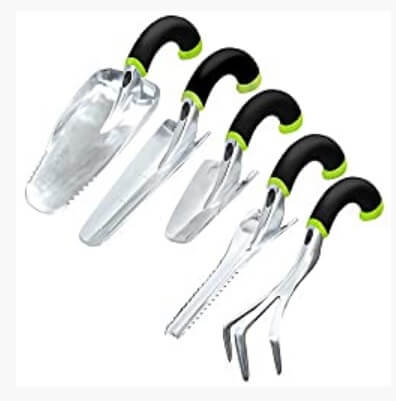 CLICK FOR AMAZON PRICING ON ERGONOMIC HAND TOOLS
Whether you're a beginner with a blossoming appreciation for your new hobby, or a green-thumb with years of experience, every gardener needs gardening tools. But operating gardening tools like a fork, trowel, or scooper can be complicated if you experience limited mobility in your hands and wrists (not to mention, these tools can definitely strain the wrists of those who use them, which can lead to further discomfort and pain). This where easy-grip tools come in handy (excuse the pun)!
For instance, Easi-Grip, a company that specifically designs a range of tools for people with impaired dexterity, creates a wide variety of gardening tools. These tools are usually much lighter and far more ergonomic, and because of this, they are much easier to grip and use. Easi-Grip tools are designed to alleviate joint pressure while increasing control and comfort. This same company even creates handles that can be added to your traditional gardening tools after-the-fact, including handles that convert the tools you already have into more ergonomic alternatives. This way, you can save a little money by not having to buy all new tools, as well as avoid wasting resources by throwing out your well-loved pre-existing collection of tools.
Stand-Up Weed Puller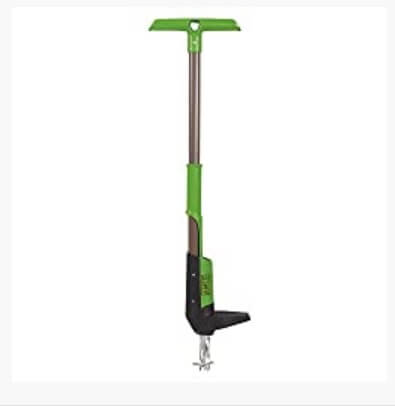 CLICK FOR AMAZON PRICING ON STAND-UP WEED PULLER
There's a reason pulling weeds is viewed as one of the worst parts of gardening. Pulling weeds is no picnic: the constant stooping, kneeling, and exerting yourself to pull at deeply rooted weeds while on all fours for hours at a time can take its toll on the body. If you're a gardener, you know just how time-consuming and exhausting pulling the weeds can be. Queue: the stand-up weed puller.
Stand-up weed pullers take bending and kneeling out of the equation, which in turn can mean less joint and back pain. This tool allows you to uproot those pesky weeds without moving between kneeling and standing, which can also reduce the risk of a fall. It's also effortless to use: place the device over the weed, step down on the foot platform to plunge the tool into the soil, and then press on the handle to pull the weed out (think of it as a very adjacent version of the claw machine, and the prize is a fully-weeded garden, but without the back pain).
Garden Rocker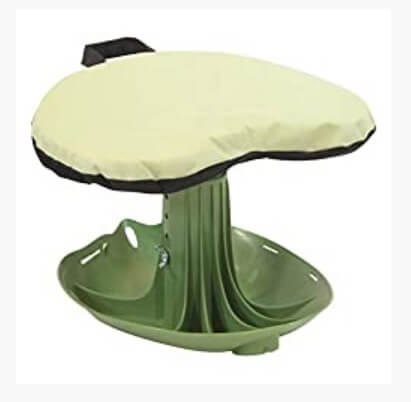 CLICK FOR AMAZON PRICING ON GARDEN ROCKER
Want all the benefits of a rolling garden seat, but with a little bit more reach for deeper flower beds? A garden rocker is a stationary version of a rolling garden seat, except the rocker allows the user to swivel instead of roll. The swivel function increases your range of reach by allowing you to rock forward and reach more plants. The garden rocker is even more applicable to deeper garden beds because it will enable you to lean further over the bed without fully folding your back at the hips, which would require you to use a garden seat.
The garden rocker is especially great for those who suffer from chronic pain, osteoporosis, or any condition that can make kneeling and bending difficult. To aid in your comfort and access, the rocker's seat is also adjustable, so you can adjust it based on the height of the plants you are tending. This makes the garden rocker great for planting, pruning, weeding, and deadheading flowers without having the backache that comes with bending low for long periods. As a bonus, the bottom part of the rocker can be used to hold your small tools.
UV Protecting Sun Hat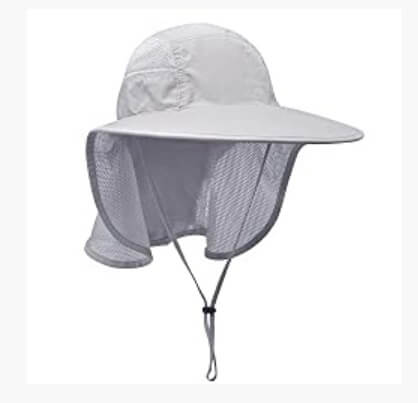 CLICK FOR AMAZON PRICING ON UV PROTECTING SUN HAT
Of course, no matter how ergonomic your handles or how well-positioned your flower beds, it's essential that you protect your body while you're out enjoying the sunshine. And that includes taking care of your skin. Sun protection is vital for people of all ages, but when you get older, your skin becomes much more fragile and susceptible to sunburn. This vulnerability, combined with the physical activity demanded by gardening, high temperatures, and direct sunlight, can make for a dangerous mix. All of these factors, as well as being dehydrated, increase the risk of heat-related illness, including heat cramps, heat exhaustion, fainting, and even heat stroke.
In order to decrease your risk of falling prey to the sun's UV rays, consider investing in a wide-brimmed hat, which not only protects your scalp, back of your neck, and eyes. Just like your skin, your eyes are also significantly impacted by sunlight. And in seniors, there are changes in the eye structure that can cause poorer eyesight and peripheral vision. Exposure to harmful UV rays can cause any number of things, from mild irritation to permanent damage to your cornea and conjunctiva. You can avoid harm caused by exposure to the sun by wearing plenty of sunscreen, drinking water, dressing in looser fitting, light-colored clothing, and lastly, investing in a quality wide-brimmed hat (and maybe a pair of matching sunglasses to tie it all together).
Thick Kneeling Pad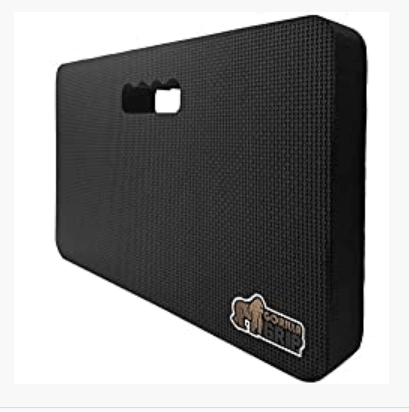 CLICK FOR AMAZON PRICING ON KNEELING PAD
The kneeling pad is an "oldie-but-a-goody," and for good reason. These cushion-like pads are simple, easy to use, easy to store, and, above all: they work. Kneeling pads lessen the hard ground's impact on your knees by providing support and a comfortable surface from which to position yourself while tending to your garden. If you're looking to lessen the effect that kneeling in the soil or gravel can have on your knees, the answer might lie in a simple foam cushion.
Of course, the value of a kneeling pad lies in its thickness--be sure to opt for one that is thick enough to protect your knees from the hard ground underneath. The thicker the cushion, the more it can level the ground beneath you and protect your knees. When deliberating on the pad's thickness, consider investing in a higher-quality version that will not break down or compress with wear and tear. Higher quality kneeling pads usually top out at around 10 to 15 dollars, which is an excellent investment (the alternative is buying a $5, lower quality version and needing to replace it more frequently).
Conclusion
Gardening offers a lot of value to one's life; putting effort in over time and watching your seedlings bloom and grow can be incredibly fulfilling, not to mention a great way to get some fresh air and sunlight. With age, continuing to enjoy this relaxing pastime can become more difficult as mobility impairments and chronic pain can become more relevant. But that doesn't mean you need to give up gardening. These innovative and thoughtfully designed tools can not only make your gardening experience more accessible but more enjoyable, as well. Read more about gardening in our Home and Garden Category.